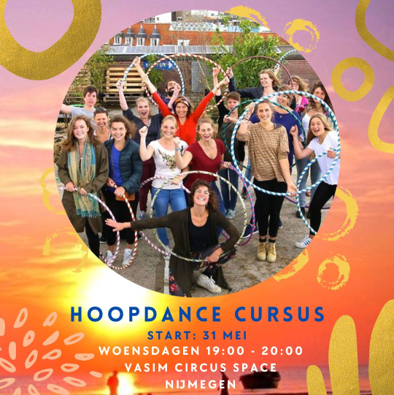 Wil jij leren dansen met een Hoelahoep? Hoepel je vrolijk de zomer in en doe mee met de Cursus Hoopdance in de Vasim Circus Space!
Deze lessen zijn voor beginners en voor iedereen die 'waist hoepelen' onder de knie heeft maar graag meer trucjes wil leren. Je kan veel meer met een hoepel dan je denkt. In deze cursus komen er meerdere toffe hoop trucs aan bod. We zullen een aantal on-body en off-body trucjes combineren. Aan het eind van deze reeks lukt het jou om vrij te bewegen met je hoepel op muziek!
DATA: woensdag 31 mei , 7 , 14 , 21 & 28 juni
TIJD: 19:00- 20:00
LOCATIE: @Vasimcircusspace
PRIJS: € 50 voor 5 lessen
Losse les 12 euro. Alleen als de cursus nog niet vol is, is het mogelijk om losse lessen te volgen.
Wat heb je nodig?
– Gemakkelijk zittende kleding. Binnen schoenen of fijne sokken.
– Er zijn leenhoepels aanwezig. Je bent welkom om je eigen hoepels mee te nemen.
—> Doe je mee met de cursus dan krijg je eenmalig 10% korting op de aanschaf van je eerste hoepel.
—> Aanmelden: kan per mail ulahoopdance@gmail.com of via Eventix ticket link.
– English –
Do you want to learn Hoopdancing? Let's have some hoopfun before the summer starts and join the Hoopdance course in the Vasim Circus Space! These classes are for beginners and everyone who is able to 'waist hoop' but wants to learn more moves. You can do a lot more with a hulahoop than you think. In this course we will learn some crazy tricks. We will combine some on-and off-body tricks. At the end of this course you can dance freely with your hoop on the beat!
DATES: Wednesday 31 may , 7 , 14 , 21 & 28 June
TIME: 19:00- 20:00
LOCATION: @Vasimcircusspace
PRICE: € 50 for 5 classes.
Single class 12 euro. Only when the course is not full, you can join for a single class.
What do you need?
– Comfi clothes and indoor shoes / nice socks.
– We will provide hulahoops. You are welcome to bring our own hoop.
—> When you join the course you receive 10% discount for the purchase of your first hulahoop.
—> Register: You can send an email to ulahoopdance@gmail.com or pay by Eventix ticket link.
Hopefully see you soon!
Playful greetings,
ULA